Our previous Team Building Clients:
I would recommend Thrill Team Events to my family, friends and colleagues. Everyone had a great time, the best laugh we have had in a long time!
Michelle – NAB
On behalf of Variety the Children's Charity, I just wanted to say thank you to the Thrill team for putting together such a wonderful bike building event!
 The kids had an absolute ball & were truly so excited to go home with their new bikes (I'm not sure who had bigger smiles on their faces – the kids, their parents, carers or teachers!) Thank you again – a well-run event, full of energy & professionalism. We cant wait to work with you again in the future!
Kerry – Variety

We have been involved with THRILL  for the past 4 years, and I would have to say that they put on one of the best Team Event programmes that I have ever had the pleasure of being involved with.  The feedback from our team has always been excellent and the way in which the programs are conducted make them challenging, exciting, fun, and rewarding.  The team from THRILL are extremely well prepared and professional and our events have always been a great success.  I look forward to our next team event with you  guys! Norman – APS
Management wanted a team building event, Survivor is what they had chosen and the THRILL event was fantastic. The THRILL staff did a great job in organising the event, everything  ran smoothly. Everyone had a great time and laugh, and the program was a lot of fun. The photos are also great, thanks for those amazing shots.
Carmela – MEP Instruments
The CTM staff had a great afternoon with THRILL and very much enjoyed the Team Construct activity – it appealed to the majority and the feedback I have received is very positive – they enjoyed the concept, the activities were geared to all levels of physicality and were not too strenuous which was a huge plus in some eyes.  They enjoyed the thought processes and the bargaining and of course the competitiveness was well and truly obvious with the final two structures – they love being competitive!!!
Shayne – CTM


A big thank you to Thrill Team Events for the fabulous Art-Rageous program at our CanTeen New Members program! Our young people loved participating in the program and got so much out of talking about their cancer journey and expressing it though their beautiful artworks. We are excited to be able to display the artworks in our office, and have already had lots of compliments and excitement about the art from our National Staff and other members.
Thank you for your generosity in delivering your program for our charity – we really appreciate it and wouldn't be able to offer such amazing camps without your support.   Clare – CanTeen
The Amazing Race program with THRILL exceeded our expectations. One of my colleagues commented that this was the first true team building event that he had ever participated in. The program was very well organised with all team members involved and no one just a bystander. Thank you again.
Esther – Briggs & Stratton
Thank you to the Thrill Team for a fabulous afternoon doing a Treasure Hunt through the Rocks area. We had delegates from nine countries throughout the Asia Pacific region, it was a fabulous way to see Historical Sydney doing something that everyone enjoyed across cultures, even the locals visited places that they had never been to before. Thank you for a fun filled event.
Christine – Goodman Fielder
An enjoyable night was had by all with THRILL making everyone feel included or "culinarily empowered". The event ran on time, no one starved and everyone had a smile on their face at the end, even after doing the washing up! The Master Team Chef program brought out the team's best culinary skills, was a dinner with a twist, and a unique and fun approach to team building. The food, advice and recipes were all great as well. Thanks again!
Andrew – Coffey Environments
We had an absolutely brilliant time with THRILL meeting all of our expectations.
We spoke later as an entire group about the purpose of the day with THRILL, what had been achieved both as individuals and collectively in teams, the highlights etc.
Andrew's team Haka, the Flower Pot scone eating challenge, the Scenic Railway cable car, mental puzzle challenge at the breathtaking Govetts Leap Gorge;  and Aboriginal Corroboree dancing at Echo Point at the end for us were absolute highlights… most of us had the best laugh at the end dancing.
The spirit of the day travelled into the early hours of the following morning!  Sam Dickson – Jet Technologies
Global Orthopaedic – 3 Olympic sized events in 3 days
Global Orthopaedic Technology selected THRILL for their multi-day team building activities program held at Sydney Olympic Park to inspire, reward and bond teams.
3 exceptional team building programs were delivered over 3 days:
a/ Barnardos received 5 exceptional BMX stunt bikes for local children as part of Thrill's Team Building Bikes for Children's Charities.
b/ Hosted Evening Entertainment and Trivi-Action fun in The Sydney Olympic Park Novotel Hotel Conference Facilities followed by…..
c/ A fantastic round up of International games, held opposite Cathy Freeman Park with ANZ Stadium as a backdrop to Global Orthopaedic Technology closing Olympic Team Games Ceremony.
Thank you to the THRILL Team for making our conference one to remember.
Everyone had a great time and have not stopped talking about it.
Joanne Webb – Global Orthopaedic Technology

The Amazing Race was a fun, actioned packed format that definitely kept us all on our toes and ran seamlessly.
The THRILL team were all very professional and assisted greatly.
Although we had a little bit of rain in the morning, it certainly didn't dampen our spirits – everyone has said what a great day it was, exciting not knowing what was coming next.  
We knew we had some very competitive people, however the Thrill Amazing Race showcased it more than ever!
Thank you for the photos with some great moments captured and organising such a great event for us.
Cassy Lawton MRS – 10 year celebration Amazing team event.
I have found on previous occasions that THRILL team events activities both challenge our staff to step outside their comfort zone and at the same time work with other personalities of the organisation. The opening of the treasure and gifting bikes to children in need was priceless.
Mark Gilhardi – Resolve FM
All the teachers were thrilled and delighted as were the children with the day.
Program exceeded expectations. Konrad and Alex were very professional and helpful.
It couldn't have gone any better!
Deborah Reynolds – Highfield's
The event was tailored to our requirements, the THRILL team were enthusiastic and helpful and we received an enormous amount of positive feedback from our staff.
Just a note to say thanks to you and your team for a great night.
Everyone has been saying how much they enjoyed it.
Bronwen Hill – Employers Mutual
The whole event was a huge success for the MUSASHI business. The execution of the rope climb contributed to this and exceeded all our expectations on the response we received from it. 200 climbs … fantastic effort !
C Humphrey – Musashi

Thank you so much for organising a very successful and fun event.  
The team really enjoyed themselves and thought that The THRILL team was fantastic.  
They really enjoyed the venue and food so we will definitely be returning at some stage!  
Judy – Fonterra
Thank you for facilitating a great day on Friday.
Everyone really enjoyed the Cockatoo Island Survivor experience.
I believe it was the right mix of activities which kept the 'tribes' engaged and enthusiastic.
It was an excellent lunch too………..always important when keeping everyone happy.  Everything worked to plan.
For RGA it was very positive to have everyone mixing outside of their normal  departments and getting to know each other on a different level.
Konrad and Mish and thanks again for your professional approach.
Pamela – RGA
We want to thank you and your team for the wonderful Team Effectiveness and Team Efficiency day you did for us in Manly Novotel.  
The feedback from all the team was they had lots of fun and got a great deal out of the day.
Christophe's feedback was it was very effective, was run really well and the integration with the behaviours was perfect.
Thank you very much.
Nicole – Nespresso
"I recently attended an Early Morning Exercise Session & Amazing Race Team Building Activity with THRILL @ Coogee.
I'd firstly like to say you were amazing.  Smart, funny and witty.  You ran it with such precision and expertise there would be no question of me recommending you or your company to anybody (I didn't organise this, I simply attended as part of our national sales conference).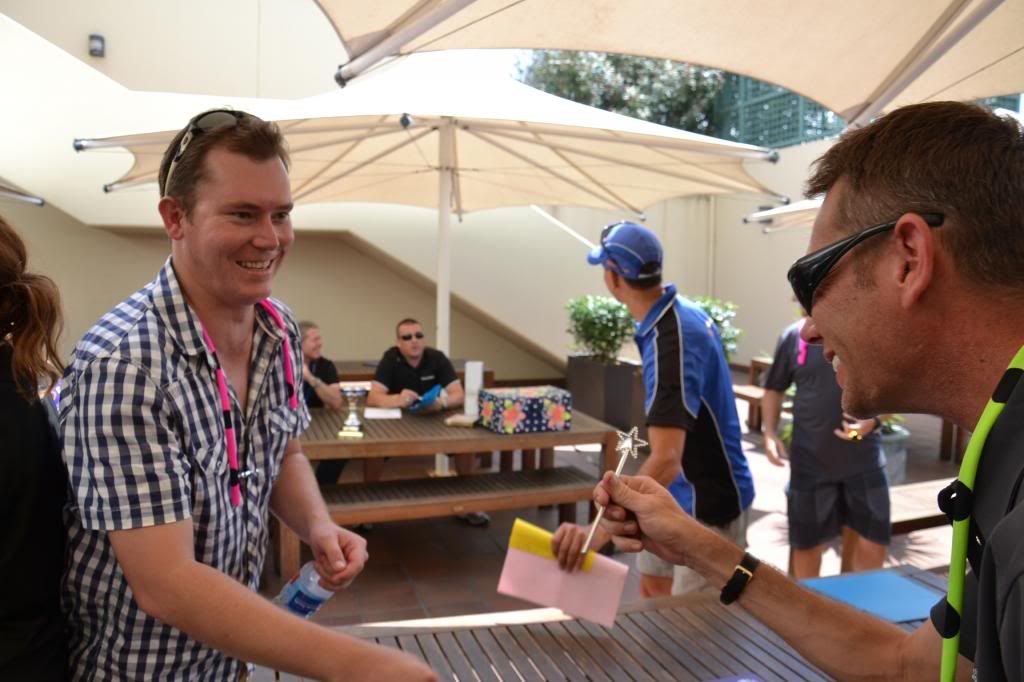 After the morning attempt of a jog etc I was completely stuffed (I only participated in about 20% of this and walked and whinged most of the way).  I used to be fit, played all the sports, tennis, squash, soccer, cricket, athletics, golf,  even walked to work for a year recently.  I wasn't noticeably fat, just became really unfit due to a change of lifestyle and working conditions (new job). It (the program) made me realise how unfit I was.
You also told me a story about your mother in regards to her smoking when you saw me smoking a cigarette.  I was a heavy smoker and heavy drinker,  I thought long and hard about this over the course of the 2-3 days I was there.  Upon landing back in Brisbane after a heavily delayed flight out of Sydney and realizing that I couldn't wait for my baggage, I was in that much of a strangle-hold to nicotine that I apparently had to rush out for a cigarette instead of waiting for my bag.  When I got to the outside smoking area, I went to light it up, and said "stuff this", threw it in the bin along with the lighter, went back and got my bag and haven't smoked since.  I did use a new nicorette spray to assist but barely use it now and doubtful I need it anymore.
I have put on a little weight, went from 90kg to 98-99kg in the space of 6 weeks.  But now that I've killed the smoking, it's given me the energy to fix the eating habit.  I've already changed the eating habit to healthy, heavily reduced the alcohol intake and am exercising.
I smoked moderate-heavy for 17 years, or 50% of my life and treated my body like a roller coaster along the way.  My grandfather died of lung cancer at 60 years of age.
I just wanted to let you know that it was that little comment by you that helped this along it's way."
Paul Olsen (at left)